BIOGRAPHY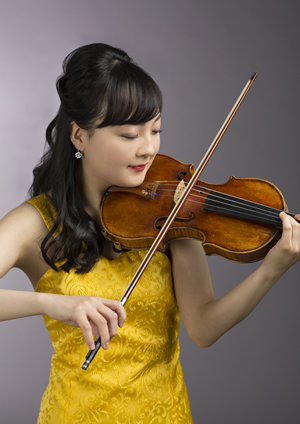 Rika MASATO
Born in Hiroshima, Japan, Rika Masato started playing the violin at the age of three, and at just ten years old, she performed Bruch Violin Concerto with the Moldova Philharmonic Orchestra in Iasi, the second largest city in Romania, which was broadcast on Romanian national radio. In 2006, at 17 years old, Rika won the 3rd prize at the International Violin Competition "Premio Paganini" and became internationally recognized. She was also the 1st prize winner of the SocietaUmanitaria of Milano International Musical Competition (2011) and the Dominique Peccatte International Competition (2016).
Living in Paris and Tokyo, she has performed as soloist and chamber musician in various countries such as France, Italy, Spain, Hungary, Japan and the United States, in venues such as Salle Gaveau, Salle Pleyel, Cite de la Musique (Paris), Theater Carlo Felice (Genoa), Colon Theater (La Coruna, Spain) and Suntory Hall (Tokyo).
Rika has played as soloist with many orchestras such as the Amadeus Chamber Orchestra, the Carlo Felice Theatre Orchestra, the Chamber Orchestra of Armenia, the Krakow Philharmonic Orchestra, the National Polish Radio Chamber Ensemble, the Hiroshima Symphony Orchestra, the Japan Century Symphony Orchestra, the Japan Philharmonic Orchestra, the Nagoya Philharmonic Orchestra, the Orchestra Ensemble Kanazawa, the Osaka Philharmonic Orchestra, the Sapporo Symphony Orchestra, the Chubu Philharmonic Orchestra, the Tokyo City Philharmonic Orchestra, the Tokyo Symphony Orchestra and the New Japan Philharmonic Orchestra. She has also appeared in TV and radio programs in France and Japan.
She studied at Toho Gakuen Music High School with Koichiro Harada and graduated with the highest distinction in 2007. She moved to Paris to study with Roland Daugareil (Concertmaster of the Orchestre de Paris) at the Conservatoire National Superieur de Musique et de Danse de Paris where she completed her Master's degree in 2011 with the 1st prize and the prize "Françoise Doreau". Furthermore, she received the "Performing Artist Diploma" at the same institution in 2013. Rika also studied at the Mozarteum University of Salzburg in the post-graduate program with Pierre Amoyal.
Her other teachers including Patrice Fontanarosa, Suzanne Gessner and Gyorgy Pauk.
In recent years, she has served as a jury member for classical music competitions such as the Osaka International Music Competition and is also focusing on teaching young talent.
In 2018, Rika released her debut CD "Violin Sonatas in Paris" (King Records) with works by Debussy, Ravel and Poulenc. It was chosen for the Japan Airlines international in-flight audio and audio guide for the Van Gogh exhibitions in Japan.
In 2019, she completed "Beethoven: All 10 Violin Sonatas Recital Series" with Masaru Okada and received great acclaim.
In 2022, her live recording of "Poulenc: Pray for peace" was elected to be used in the Exhibit Facility for Atomic-Bombed Remnants in the Hiroshima Peace Memorial Park.
In the spring of the same year, she toured with the Hiroshima Symphony Orchestra for six concerts, to great acclaim.
Rika Masato performs on the 1710 Giuseppe Guarneri (filius Andreae) violin.